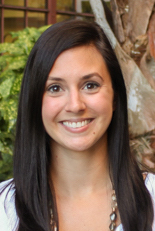 Brittany Hand, PhD, MOT, OTR/L
How long have you been a member of ASIA?
7 months
Why did you choose the SCI field?
Both personal and professional reasons informed this decision. On a personal level, my grandfather sustained an S CI when I was a child and most of my childhood years were spent helping to care for him. On a professional level, SCI research lags behind other rehabilitation fields in terms of applying "modern" measurement approaches that can offer valuable insights with clinical and policy implications.
Please list a few of your most recent accomplishments:
Hand, B.N., Velozo, C.A., & Krause, J. (under review). Rasch measurement properties of the Pain Medication Questionnaire for persons with spinal cord injury. Archives of Physical Medicine and Rehabilitation.
Hand, B.N., Darragh, A.R., & Persch, A.C. (in press) . A systematic review of the thoroughness and psychometrics of fidelity measures in occupational and physical therapy. American Journal of Occupational Therapy.
Hand, B.N., Dennis, S., & La ne, A.E. (in press). Latent constructs underlying sensory subtypes in children with autism: A preliminary study. Autism Research.
Hand, B., Page, S. J., & White, S. (2014). Stroke survivors scoring zero on the NIH Stroke Scale still exhibit significant motor Impairment and functional limitation. Stroke research and treatment , 2014.
2016 Travel Award, American Occupational Therapy Association 2016 Alumni Grant for Graduate Research and  Scholarship, The Ohio State University 2016 M. Rosita Schiller Research Award, The Ohio State University 2015 Research Higher Degree Student Exchange, University of Newcastle, Australia
Why did you join ASIA?
I joined ASIA to stay informed and involved in cutting-edge developments in SCI treatment and research. Additionally, my membership in ASIA may lead to valuable collaborations with other scientists in the field.
Short Biography:
My program of research focuses on improving the quality of care and patient rehabilitation outcomes through the use of personalized healthcare in a variety of patient populations by: 1) capitalizing on existing large data sets to inform clinical decision making and future research directions; 2)  developing valid and reliable patient reported outcome measures using modern measurement techniques; and 3) utilizing statistical modeling techniques to predict responsiveness to intervention based on individual characteristics and using these predictions to inform clinical decision-making. As a n undergraduate and graduate student, I conducted research in autism, stroke, and cerebral palsy populations, which provided me with a strong  foundation in quantitative data analytics. My doctoral research focused on subtypes in children with autism and the underlying theoretical structure to the subtyping model. Additionally, I developed clinical decision-making tools for occupational therapists working with children with autism that l ink individual characteristics of the child to evidence based interventions that may be the most effective for that child. For my postdoctoral training, I have continued to build on my previous training in measurement and quantitative methods by performing secondary analyses of a large longitudinal dataset consisting of patients with spinal cord injury (SCI). The goal of my postdoctoral fellowship is to advance the state of measurement science in SCI rehabilitation research to ultimately inform policy and clinical decisions.